Wildlife health investigations: needs, challenges and recommendations
BMC Veterinary Research
2013
9:223
Received: 7 May 2013
Accepted: 30 October 2013
Published: 4 November 2013
Abstract
In a fast changing world with growing concerns about biodiversity loss and an increasing number of animal and human diseases emerging from wildlife, the need for effective wildlife health investigations including both surveillance and research is now widely recognized. However, procedures applicable to and knowledge acquired from studies related to domestic animal and human health can be on partly extrapolated to wildlife. This article identifies requirements and challenges inherent in wildlife health investigations, reviews important definitions and novel health investigation methods, and proposes tools and strategies for effective wildlife health surveillance programs. Impediments to wildlife health investigations are largely related to zoological, behavioral and ecological characteristics of wildlife populations and to limited access to investigation materials. These concerns should not be viewed as insurmountable but it is imperative that they are considered in study design, data analysis and result interpretation. It is particularly crucial to remember that health surveillance does not begin in the laboratory but in the fields. In this context, participatory approaches and mutual respect are essential. Furthermore, interdisciplinarity and open minds are necessary because a wide range of tools and knowledge from different fields need to be integrated in wildlife health surveillance and research. The identification of factors contributing to disease emergence requires the comparison of health and ecological data over time and among geographical regions. Finally, there is a need for the development and validation of diagnostic tests for wildlife species and for data on free-ranging population densities. Training of health professionals in wildlife diseases should also be improved. Overall, the article particularly emphasizes five needs of wildlife health investigations: communication and collaboration; use of synergies and triangulation approaches; investments for the long term; systematic collection of metadata; and harmonization of definitions and methods.
Keywords
CollaborationDefinitionsHarmonizationHealthImpedimentsSurveillanceStrategiesRisk factorsToolsWildlife
Introduction
Growing human population, globalization, climate change and a number of ecological perturbations have resulted in an increasing number of emerging diseases. Given this context, the role of wildlife in human and domestic animal disease emergence has become widely recognized as a factor we can no longer afford to ignore. Thus, wildlife health surveillance has become an integral component in the identification and management of potential threats to human and animal health [1–4]. The objectives, concepts and methodology of investigations into wildlife health are similar to those of domestic animal health surveillance. But given the zoological, behavioral and ecological characteristics of wildlife populations, there are also some substantial differences that need to be taken into account when planning for, implementing and interpreting data from investigations into wildlife health. It requires a new set of definitions, methods and procedures, taking into account the unique conditions under which wildlife health surveillance is carried out [5]. Laboratories still tend to rely on domestic animal surveillance approaches in their investigations into wildlife pathogens. It is important to stress that although the growing interest in wildlife health is definitely a positive trend, this reliance bears a substantial risk of error at various levels ranging from initial study design all the way up to result interpretation.
This article reviews the factors to consider when investigating the health of free-ranging wildlife, including the challenges and constraints inherent in such investigations, with a particular focus on surveillance. The aims are to provide: (1) revised definitions of old concepts; (2) an update on the importance of influencing factors on wildlife health investigations; (3) an overview of tools available to wildlife health investigators.
Health, disease and pathogen: modern definitions
The World Health Organization (WHO) has defined health as a "state of complete physical, mental and social well-being and not merely the absence of disease or infirmity" [6], which implies that most humans are unhealthy most of the time. In veterinary medicine, health has been defined as "a state of physical and psychological well-being and of productivity, including reproduction" and "health indices" refer to easily observed parameters that can be used as a guide to the animal's or group's state of health (e.g., food intake, fecal output, body weight) [7]. It has recently been proposed to redefine health as "the ability to adapt and to self-manage" [8, 9], i.e., an organism is healthy if it is capable of maintaining physiological homeostasis through changing circumstances. If it is unable to mount a protective response, reducing the potential for harm and restoring an (adapted) equilibrium, damage remains and may result in illness [9]. Accordingly, measuring health is challenging and requires tools for assessing an individual's capacity to cope and to adapt. It is also important to differentiate between the health status of individuals and that of populations [9].
Population health has emerged as an important discipline. In veterinary medicine it is particularly useful in the assessment of production animal health and wildlife health. Population health is concerned with the definition and measurement of health outcomes (the dependent variables) and the roles of determinants (the independent variables). The term "health outcome" is preferred over "health status", because the latter refers to health at a point in time rather than to health over a period of years [10]. A hallmark of the field of population health is significant attention to the multiple determinants of health outcomes and their interactions, i.e., examining: systematic differences in outcomes across populations; the complexity of interactions among determinants; the biological pathways linking determinants to population health outcomes; the influence of different determinants over time and throughout the life cycle. While specific investigations into a single determinant, outcome measure, or policy intervention are relevant and may even be critical in some cases, they must be recognized as being only part of a more complex picture [10].
In accordance with the new definition of health [9], a disease is a non-balanced perturbation of one or more body function(s), including responses to infectious and non-infectious agents [11]. Disease can affect individual hosts by reducing growth rates or fecundity, increasing metabolic requirements, or changing patterns of behavior. It may ultimately cause death [12].
While many organisms have the potential to cause disease, infections usually have little detrimental effect on the host. Disease occurs if the delicate balance between hosts and parasites is upset, for example when the parasites become too numerous or when the immunological capability of the host is impaired [12, 13]. Infection may also have sublethal effects that indirectly enhance mortality rates by for example, increasing the susceptibility of the infected host to predation [12].
A pathogen is usually defined as a microorganism that causes, or can cause, disease in a host [14]. Virulence and pathogenicity both refer to the ability of a pathogen to cause disease. However, while virulence is a continuous variable defined by the amount of damage that is caused, pathogenicity refers to the quality of disease induction and is a discontinuous variable (yes or no) referring to the capacity of a microbe to cause damage in a (susceptible) host [14]. It is not possible to draw a clear and unequivocal distinction between pathogens and non-pathogens. Properties conferring pathogenicity depend as much on the host as they do on the microorganism. They may be influenced by multiple factors such as environmental stress, pollutants and other microorganisms [15–17]. Such alterations can create conditions in which the host becomes vulnerable to microbes which were previously non-pathogenic. When the immune response of the host to a microbe is insufficient, microbial factors can cause damage; when microbial factors fail to stimulate the immune system, the microbe can disseminate and cause disease; and when the immune response to a microbe is too exuberant, it can be the immune response itself that is responsible for the pathology. In other words, pathogenicity can be due to the immune response to the pathogen rather than to the pathogen itself [14]. Consequently, attempts to classify micro- or macroparasites as pathogens, non-pathogens, opportunists, commensals and so forth are misguided because they attribute a property to the parasite that is instead a function of the host, the parasite and their interaction [14].
Wildlife health investigations: data sources and factors to consider
Difficulties inherent to health investigations in wild populations
Surveillance and research on wildlife-related diseases are associated with a number of challenges which include not only the practicality of the case, sample and field data collection, but also the interpretation of field data and the validation of field observations through experimental studies [21]. A further difficulty associated with wildlife is its wide taxonomic diversity [4]. This requires knowledge of zoology (species identification) and of species-specific issues such as anatomy, pathology, disease susceptibility and ecology.
Conclusions
In a fast changing world with an increasing number of emerging diseases affecting wildlife, domestic animals and humans, the need and interest for effective wildlife health investigations including both surveillance and research, is now widely recognized. The lack of surveillance schemes is often mentioned as a cause of emerging diseases. In contrast, wildlife health surveillance produces knowledge that benefits at least three different agencies, namely animal health, public health and conservation [46]. However, methods applicable to and knowledge acquired from studies related to domestic animal health can only partly be extrapolated to wildlife.
In a former review, Boadella and collaborators formulated six recommendations for monitoring of wildlife diseases: to perform monitoring in relevant domestic animals and/or humans in addition to investigations in wildlife; to consider background information on wildlife population ecology; to select the appropriate wildlife hosts for monitoring; to select appropriate methods for diagnosis and time/space trend analysis; to define the target parameters for monitoring; and to establish a reasonable sampling effort and suitable sampling stratification [46]. The present review is in agreement with these recommendations but emphasizes five further needs of wildlife health investigations: (1) communication and collaboration (human dimension, networking and publication); (2) use of synergies and triangulation approaches; (3) investments for the long term; (4) systematic collection of metadata, i.e., information on the sampled animals such as age, sex and geographical origin; (5) harmonization of definitions and methods.
Participatory approaches, networking and transdisciplinary communication are key factors in efficient wildlife health surveillance. First, reports of unusual health events and the submission of carcasses largely depend on disease awareness, personal interests and the good will of the public and of field professionals. Second, targeted studies dealing with infectious pathogens generally require an effective collaboration with hunters, as the carcasses of hunted animals are an irreplaceable source of samples. In this context, direct human contacts are essential for a sustainable surveillance system. Close interactions with field partners and regular feedback should be an integral part of any project requiring wildlife samples. Sharing knowledge is a bilateral process in which all involved partners give and receive. However, as new technologies are developed, as software systems allow better data storage and as electronics facilitate rapid communication, the human dimension of wildlife health investigations tends to be neglected. Along similar lines, Nature recently quoted an epidemiologist as warning against the "mirage of technology" in surveillance; he emphasized that "the labs' top priority should be building teams of local staff who are familiar with the region, its language and practices, such local knowledge being crucial to interpreting data" [119]. Nevertheless, when non-professional field partners are recruited for sampling campaigns, it is essential to provide them with adequate equipment and information to ensure personal safety.
Interdisciplinary collaboration is not only necessary for a comprehensive approach to wildlife-related health issues, it is also an enriching experience for everyone involved. But mutual respect is crucial for effective and productive cooperation. Open minds and curiosity for each other's field of expertise are essential. Also, considering the difficulties in accessing wildlife samples, the challenges encountered in the frame of laboratory analyses and the value of population biology in interpreting results, the contributions of all parties should be equally acknowledged, from project planning to data publication.
Per definition, surveillance is carried out with the goal of providing data useful for developing management strategies. Knowledge obtained through surveillance efforts should be made available not only to local services but also to the international scientific community. The growing number of professional networks accessible via internet platforms and email groups provides the opportunity to exchange information rapidly and efficiently. Also, the number of published articles in scientific journals is exponentially increasing. Unfortunately, publications are partly promoted for prestige purposes. This attitude bears the risk of neglecting less impressive but useful data, such as negative results, baseline values or case reports. Furthermore, grants are generally allocated for new data collection but not for the analysis and publication of already existing data.
To be effective and comprehensive, a surveillance program should include various components investigating different aspects of health events which serve to complement one another, such as scanning and targeted surveillance approaches, outbreak investigation, archiving of biological samples, field and laboratory studies, predictive modeling and risk assessment [19, 53]. Similarly, for targeted investigations a triangulation approach, such as the combination of antibody or pathogen surveys with pathological investigations, or of laboratory or field investigations with questionnaire enquiries, may be useful to access a satisfying amount of data and increase result reliability. Different methods may also act in synergy: presence in the fields for targeted sampling usually increases disease awareness in hunters and game wardens, who may subsequently submit more cases for scanning surveillance; feedback from the laboratory to the fields in the form of reports on investigated carcasses will encourage field partners to participate in future sampling campaigns; teaching efforts also contribute to the success of surveillance by increasing the interest of field partners for health issues; conversely, data arising from surveillance are useful for teaching purposes. Overall, synergies not only improve the efficiency of the system, they also permit saving resources.
Surveillance is an on-going process unlimited in time. For this process to be efficient, it is important to work with long-term goals in mind. Suboptimal communication with field partners in the framework of a single survey may compromise future studies and scanning surveillance efforts. Furthermore, sample and data archives not only allow retrospective investigations, they also contribute to saving resources and increasing sample sizes in future surveys.
Systematic collection of metadata during sampling campaigns is necessary because various environmental and individual factors can influence results obtained in the framework of surveys. Also, collection of wildlife specimens is often hampered by issues related to population management and access to the animals, resulting in a convenience sample. The distinction between risk factors for infection and sampling biases is crucial. Furthermore, definitions and methods – for fieldwork, laboratory analyses and data management – need to be standardized to allow for a global approach to wildlife health investigations.
Overall, wildlife health investigations are associated with numerous potential problems. These concerns should not be viewed as insurmountable, but it is imperative that they are considered in study design, data analysis and results interpretation [
21
] (Figure
3
). It is especially important to remember that health investigations do not start in the laboratory. They begin in the field. And because surveillance is carried out with the goal of taking action, resources and efforts should not only be allocated to data collection but should fundamentally always include data analysis and dissemination of information.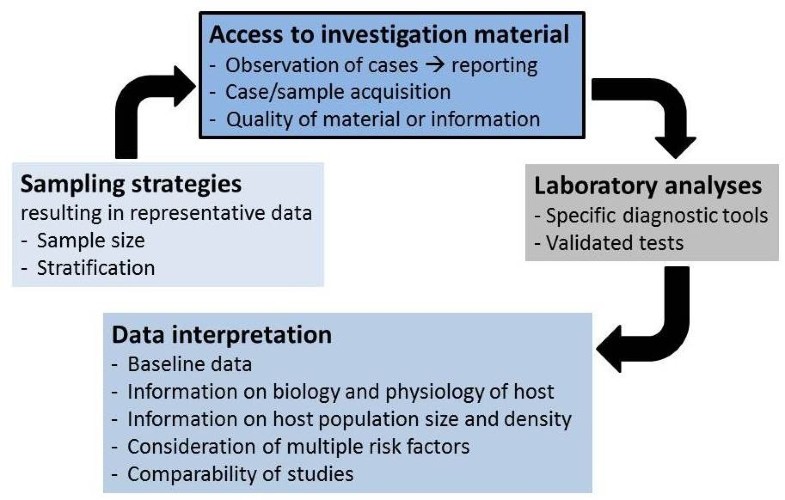 Declarations
Acknowledgements
Many thanks go to Helmut Segner and Fabien Mavrot for critical reading of the manuscript and to Maja Stodte for improving the English language.
Authors' Affiliations
(1)
Centre for Fish and Wildlife Health, Vetsuisse Faculty, University of Bern, Bern, Switzerland
Copyright
© Ryser-Degiorgis; licensee BioMed Central Ltd. 2013
This article is published under license to BioMed Central Ltd. This is an open access article distributed under the terms of the Creative Commons Attribution License (http://creativecommons.org/licenses/by/2.0), which permits unrestricted use, distribution, and reproduction in any medium, provided the original work is properly cited.